Nif_H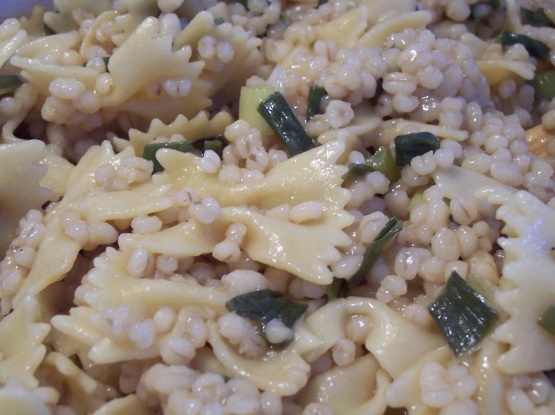 From Safeway Pearl Barley Package - "This is such a tasty dish and it's effortless to prepare because the farfalle pasta (bow ties) bakes right along with the barley. It makes a nice change of pace from rice and potatoes, with any meat, poultry, fish or vegetarian meal." Pilaf may be refrigerated overnight. Bring to room temperature and reheat in the microwave

Top Review by Nif_H
This is fantastic. I was a little leary because I thought the pasta would be too mushy, but it's great. I also thought that that was a lot of green onion, but it's just right. The timing is perfect as well. The only thing I changed was to use half beef and half chicken broth, because that's what I had. I will make this again for sure. Delicious! Made for Newest Zaar Tag. Thanks!
Preheat oven to 350 degrees.
In a large skillet over moderately high heat, melt butter.
Saute barely until lightly toasted, about 5 minutes.
Slowly stir in broth and bring to a boil.
Transfer to an ungreased 3 quart round casserole dish.
bake covered for 20 minutes.
Stir in green onions, pasta, salt and pepper.
Continue baking, covered, for 20 more minutes or until barley is tender.
Uncover and bake for 5-10 more minutes, or until all liquid is absorbed.