Barley and Tuna Salad With Lemon and Dill
DanaPNY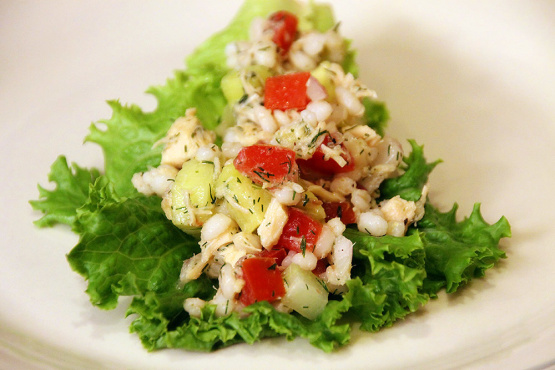 Not sure where I found this but it was on my computer and still looks good to me. With summer coming salad entrees that require little or no cooking work especially well. Cook some barley one night for dinner and reserve some to make this the next day. Though this is good after a couple of hours, it's even better the next day as the dill flavor really infuses the dish and the tuna flavor mellows. (Please don't eat this right away, not very tasty.) For WW followers, this is Core or 3 points for Flexers. Cooking time is minimum chilling time.

So good to make ahead and have for lunches throughout the week! Mine was a little watery so will use a little less lemon juice next time.
Combine salad ingredients together in a large bowl.
Whisk together dressing ingredients in small bowl. Pour on salad and toss to coat.
Refrigerate a minimum of 2 hours (stated cooking time) to blend flavors.