Pismo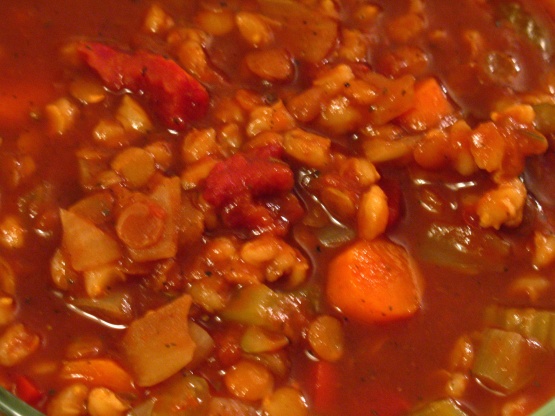 Top Review by cydney
I tried this soup out on my family, not really sure what kind of reaction I would get. We all need our cages rattled every now and again. They thought it was delicious and so did I. I went ahead and used the whole 6 oz. can of tomato paste and it gave the soup a stronger tomato flavor which we liked. It may have added to the thickness but we tend to like thicker soups as opposed to thin. This is a very hearty soup with well-balanced flavors that we will enjoy year round. Thanks Nurse Di.
In a large saucepan, add oil and heat over medium-high heat.
Add onions and garlic; saute onions for 10 minutes or until clear.
Add next 6 ingredients.
Cook until red bell pepper is just softened, stirring occasionally.
Add 5 cans of broth, tomatoes, and tomato paste.
Bring to a boil.
Stir in barley and lentils.
Lower heat and simmer about 1 1/2 hours or until barley and lentils are tender; stirring occasionally.
Add more broth to reach desired consistency.
Add salt and pepper to taste.
Ladle into soup bowls and sprinkle with parsley.