Barley and Fruit Pudding (Ww Core)
Rita1652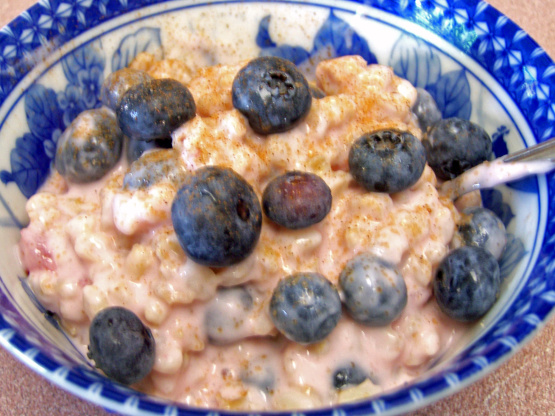 Had some leftover barley and a sweet craving and this was the result. The taste is akin to a cold rice pudding and just as creamy and satifying. More a concept than a recipe, I don't imagine this will be of interest except to others doing the WW Core program. Feel free to improvise to suit your own tastes. Sweetness can also be adjusted to make this a suitable breakfast.

As a concept to build on, I'd say this is a 5. I used cooked barley and fat free french vanilla yogurt. LOVED that part. I used frozen blueberries and didn't love that part as much. I think I'd prefer chopped apples, honestly. But I loved how creamy this is. A great way to start my day with a whole grain when I'm tired of oatmeal. Thanks toni!
In a small bowl, mix together the yogurt, sweetener and vanilla. Stir in the barley. Add additional yogurt if you want a creamier consistency. Adjust sweetner to taste as well.
Mix in the berries (or whatever you have on hand).
Divide into dessert bowls and serve.