Barley and Cannellini Bean Stew
dicentra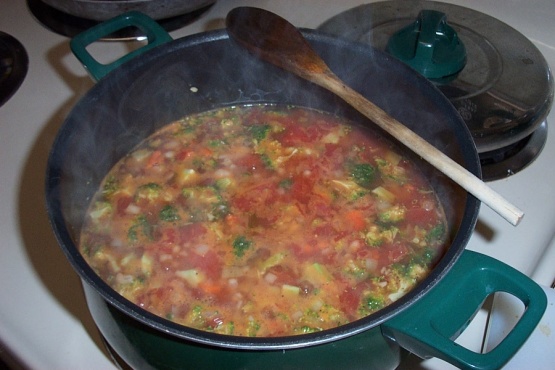 This is a great stew for cold winter nights! Serve with warm whole grain rolls or grilled cheese sandwiches. Caution: it does make a lot, but freezes well. It can be reheated directly from the freezer in the microwave. Just heat for 2 minutes at a time, stirring between each until it is as hot as you'd like it.
Sauté the garlic and onion in the oil in a large soup pot.
Cook for several minutes, and then add the tomatoes, vegetable broth, water, beans and oregano.
Bring to a boil, add the barley, then reduce heat and simmer for 25 minutes or until the barley is almost cooked.
Add the broccoli, carrots, salt and pepper. Simmer for an additional 15 minutes, or until the veggies are just tender.
Serve immediately.