Bargain Hunters Board Christmas Crack
Red Hook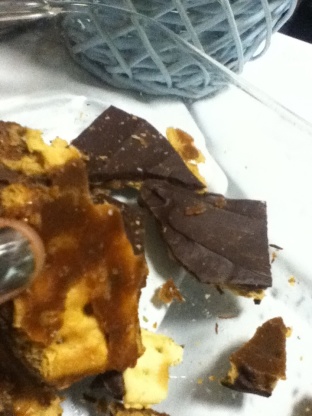 This is the best thing I've ever tasted, brought to me a few years back by Babycenter.com's Amazing and Wonderful Bargain Hunters Board! The BHB and I go waaaaay back. I remember my first day, 4 years ago. I reported the board for trolls. LMAO. Preparation time is hands on time, cooking time includes freezer cooling.

This stuff is so good we jokingly call it "Christmas Crack"?it's highly addictive. We got this recipe from a friend but we've made a couple of changes. First we use tin foil to line the bottom of the pan. The cracker, carmel mixture comes off the tin foil pretty easy. 2nd we use the Splenda Brown Sugar mix which cuts the calories in half. Also we use dark chocolate chips cause we just love dark chocolate so much. It's great!
40

saltine crackers (1 sleeve)

1

cup butter (I use unsalted)
3⁄4 cup brown sugar

1

(12 ounce) bag semi-sweet chocolate chips
Preheat the oven to 350 degrees.
Line a jelly roll pan with parchment or wax paper.
Place the saltines neatly in the pan, not overlapping. The pan should hold 40 crackers pretty neatly. I break the last row in half to fit tightly.
Melt the butter and add the brown sugar. Keep on med-hi to hi and stir constantly for 5 minutes exactly.
BE AWARE that hot sugar is really fracking hot. Don't consider touching it.
Pour the sugar mixture onto the saltines and spread out over all the crackers. I use a frosting spreader. Use a fork to move any wayward crackers back in line.
Put in in the oven for 3-5 minutes.
Pull out and let sit for a minute, then empty the bag of chocolate chips all over the top. Back in the oven for a minute, then spread out the now melty yumminess.
Sprinkle some salt on top. This is optional. In some universes, I guess.
Put it in the freezer for 30 minutes or let it sit out for hours. It's a pretty easy decision for me, really.
Break up into cracker sized pieces.
Hide in the closet and eat 10 pieces before letting anyone know you made them.