Barefoot Contessa's Sun-Dried Tomato Dip (Light Version)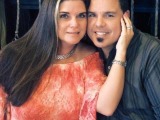 Adapted from The Barefoot Contessa Cookbook, 1999. This wonderful dip is just as good as the original, using lower fat versions of cream cheese, sour cream, and mayonnaise. I bet you can't tell the difference!
Directions
Puree the tomatoes, cream cheese, sour cream, mayonnaise, Tabasco sauce, salt, and pepper in a food processor fitted with a metal blade.
Add the scallions and pulse twice.
Serve at room temperature.
Most Helpful
I had all of the ingredients on hand so I thought I'd try it today. MMM. Delicious. Thanks for the recipe.
Fabulous crowd-pleaser dip! I served this with pita chips and everyone commented on how tasty it was. Made as posted, without the hot sauce. Definitely a keeper!
Tasty! I made this for a party just as posted with all the lighter products and everyone loved it - ate it up in a hurry. Great sun dried tomato flavor and I like the green onions in this. I served it with wheat thin crackers. Serving at room temperature allows the full flavor to come out. Thanks for posting, Juenessa, I'll make this one again!