Barefoot Contessa's Roasted Tomatoes
Juenessa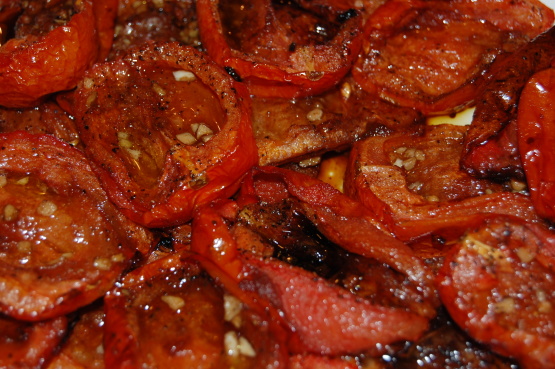 I saw Ina make these on her cooking show. The episode was entitled "Photo Finish". These tomatoes are delicious!

I had some trouble with this recipe. While the recipe is very simple and the flavor is very good (5 stars), my tomatoes never began to carmelize as described in the directions, instead they mostly dissolved. Again, the flavor is wonderful and I would like to try again with greater success. Any suggestions would be welcome.
Preheat the oven to 450 degrees F.
Arrange the tomatoes on a sheet pan, cut sides up, in a single layer.
Drizzle with olive oil and balsamic vinegar. Sprinkle the garlic, sugar, salt, and pepper over the tomatoes.
Roast for 25 to 30 minutes, until the tomatoes are concentrated and beginning to caramelize.
Serve warm or at room temperature.