Barefoot Contessa's Parmesan Black Pepper Crackers -Ina Garten
Juenessa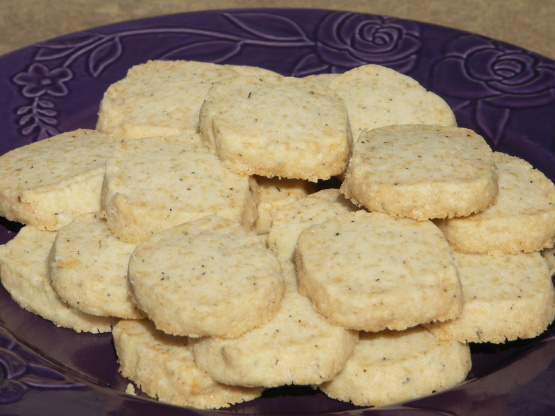 I saw Ina make these on her cooking show. The episode was entitled "Bed and Breakfast". I made them and my husband said they are like a savory Parmesan cookie, because they are thicker than a cracker. They were super easy to make and taste nice! The house smelled of yummy parmesan, while they were baking.

I'm so glad someone on this site mentioned the "butter problem!" I had struesel crumbs too, and was flummoxed until I read that one of you had added an extra 1/4 c. of butter. That was perfect! I think the butter amount may be a typo, too, because thee original recipe was imposible to form into anything. Thanks!
Place the butter in the bowl of an electric mixer fitted with a paddle attachment and mix until creamy. (**I think this is where personal preference and maybe even altitude will effect the outcome of these crackers. I started out with 1 stick of butter, then blended all the other ingredients together. The "dough" was too crumbly and looked like a struesel topping that you would put on top of muffins or a coffee cake. The one stick of butter is what Ina calls for in her recipe. I think this is a typo. I added another 1/2 stick of butter to the flour mixture, and then beat it with the paddle attachment on my mixer. This is when the "dough" balled up and looked right. So, I think this recipe needs between 1 stick and 1 1/2 sticks. You might even get by with 1 1/4 sticks.).
Add the Parmesan, flour, salt, thyme and pepper and combine.
Dump the dough on a lightly floured board and roll into a 13-inch long log.
Wrap the log in plastic wrap and place in the freezer for 30 minutes to harden.
Meanwhile, preheat the oven to 350 degrees F.
Cut the log crosswise into 1/4 to 1/2-inch thick slices.
Place the slices on a sheet pan and bake for 22-25 minutes.
**Cook time does not include freezing the dough for between 15-30 minutes (mine were hard enough to easily cut at 15 minutes).