Barefoot Contessa's Outrageous Oreo Crunch Brownies
Jackshoe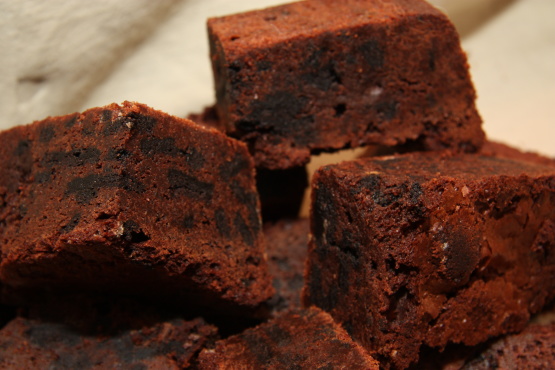 These are legendary and full of sin.

I originally submitted a 4 star review and I whined a little about the texture right out of the oven. Well, after I re-read the directions, I saw that you're supposed to put them in the refrigerator. Oh. my. goodness. These are stupendous!! The refrigerator step is essential! I took them to a lunch after church today and people seriously lost their minds over them. Next time I'll use a deeper 11x17 (I used like a jelly-roll pan), or a 9x13 + a 8x8. I was proud to offer them for dessert to new friends! Thanks riff-raff!
473.18

ml butter

453.59

g semi-sweet chocolate chips (original recipe calls for 28 oz., I feel that is too much but I will leave that up to you)

170.09

g unsweetened chocolate, chopped

6

large eggs

44.37

ml instant coffee granules

29.58

ml vanilla

532.32

ml sugar

236.59

ml flour

59.14

ml flour

14.79

ml baking powder

4.92

ml salt

946.36

ml chopped Oreo cookies (50 cookies)
Preheat oven to 350°.
Butter and flour an 11" X 17" pan (I used a 9 X 13 and had thicker brownies).
In a heat-proof medium bowl set over a saucepan of simmering water, heat butter, chocolate chips and unsweetened chocolate until melted and smooth. Allow to cool slightly.
In a large bowl, whisk eggs, coffee, vanilla and sugar.
Blend chocolate mixture into egg mixture; cool to room temperature.
In a medium bowl, sift together one cup flour, baking powder and salt.
Add flour mixture to chocolate mixture. In a small bowl, stir Oreos and remaining 1/4 cup flour.
Add Oreo mixture to chocolate mixture.
Pour batter into baking pan and smooth top with a rubber spatula.
Bake 35 minutes or until a toothpick inserted 3-inches from center comes out clean; do not overbake.
Allow to cool. refrigerate, tightly wrapped, until cold; cut into squares.
Share them with your friends and they will be forever indebted to you!