Barefoot Contessa's Orange Banana Smoothie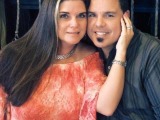 I saw Ina make this on her Barefoot Contessa cooking show and the episode was entitled "Good Home Cooking." This smoothie is quick and delicious! You can also use frozen strawberries.
Directions
Combine the orange juice, lime juice, strawberries, and banana in a blender and process until smooth.
Refrigerate until cold.
"Cook" time does not include refrigeration time for chilling.
Most Helpful
Liked that there was no sugar added to this drink but the lime came through strong, maybe I put more than what was called for. Will make again though. Thanks!
This was good. I used Simply Orange OJ and left out the lime juice. I used frozen strawberries. It was very good - a tiny bit tart though. I scaled the recipe down to 1 1/2 servings me for me for a nice 150 calorie smoothie, so I only put in 1/2 of a banana. Next time I will put in the whole thing for extra sweetness. Thanks for sharing!

WOW!!!!! Love this smoothie. The flavors go well together. A real nice fresh tasting drink. Like that you don't add any sugar. I used some frozen strawberries so that made the drink cold enough that I didn't need to chill.