Barefoot Contessa's Mini Orange Chocolate Chunk Cake
Prep 30 mins
Cook 40 mins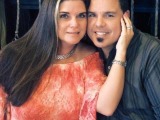 For the individual "baking molds" listed in the cooking directions, you can try 7 oz ramekins--they work fine too or even muffin tins.
Directions
Preheat the oven to 350 degrees F.
Grease and flour 6 individual serving baking molds, such as the flexible non stick 100 percent silicone molds.
Cream the butter and sugar in the bowl of an electric mixer fitted with the paddle attachment for about 5 minutes, or until light and fluffy.
Add the eggs, 1 at a time, then the orange zest.
Sift together 1 1/2 cups flour, the baking powder, baking soda, and salt in a large bowl.
In another bowl, combine the orange juice, buttermilk, and vanilla.
Add the flour and buttermilk mixtures alternately in thirds to the creamed butter, beginning and ending with the flour.
Toss the chocolate chunks with 1 tablespoon flour and add to the batter.
Pour into the pans, smooth the tops, and bake for 30 minutes, until a cake tester comes out clean.
Let the cakes cool in the molds on a wire rack for 10 minutes.
Meanwhile, make the syrup.
In a small saucepan over medium-low heat, cook the sugar with the orange juice until the sugar dissolves.
Remove the cake from the pans, put them on a rack over a tray, and spoon the orange syrup over the cakes.
Allow the cakes to cool completely.
For the ganache, melt the chocolate, heavy cream, and coffee in the top of a double boiler over simmering water until smooth and warm, stirring occasionally.
Drizzle over the top of the cakes.
Most Helpful
I made this recipe as printed in the Barefoot Contessa Parties! cookbook. The recipe looks about the same except but the ingredient amounts are a bit different I put the batter into a greased and floured 10-cup bunt pan. This is a wonderful dessert to make when you are entertaining or to bring to a get together. I think it's important to use fresh oranges for the juice and the grated rind. My ganache didn't turn out too great because I had to improvise ( I didn,t have buttermilk). I will add this to my favorites and make again soon.
Got to admit I almost passed up on this recipe, what with all the steps in preparation, as well as the coffee granules in the ganache [I definitely do not like the taste of coffee!]. However, everything else really be reaching out to me! I'm SO GLAD I made this cake ~ it is OUT-OF-THIS-WORLD, as far as I'm concerned! Other than dropping the coffe granules ingredient, I did add some additional orange zest to the syrup, but other than that.... The blend of chocolate & orange is sooooo nice! I'll definitely be making this again & again &.... So many thanks!