Barefoot Contessa's Mashed Potatoes
Prep 25 mins
Cook 20 mins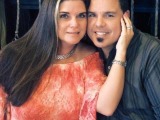 From Barefoot Contessa Family Style cookbook, 2002. My kids love these mashed potatoes and request them often!
Directions
Cook the potatoes in a large pot of boiling salted water for 15 to 20 minutes, until very tender.
Meanwhile, heat the butter and half-and-half in a small saucepan.
Drain the potatoes.
While still hot, place the potatoes in the bowl of an electric mixer fitted with the paddle attachment.
With the mixer on low speed, slowly add the hot half-and-half mixture, the sour cream, 2 teaspoons salt, and the pepper.
Mix until the potatoes are mashed but not completely smooth.
Serve hot.
Most Helpful
Perhaps the best mashed potatoes I've ever had! Thanks for posting :)
Made half recipe, using less butter, 2% milk, and Recipe #39350 for creamy potatoes with less calories and fat, and did not need gravy for taste. Served with Recipe #261176. Thanks for sharing Juenessa. Made for When It's Hot Tag Game.

These are great mashed potatoes. Love how they are so creamy. We will use this recipe a lot. Thanks for posting.