Barefoot Contessa's Hot Chocolate
Thorsten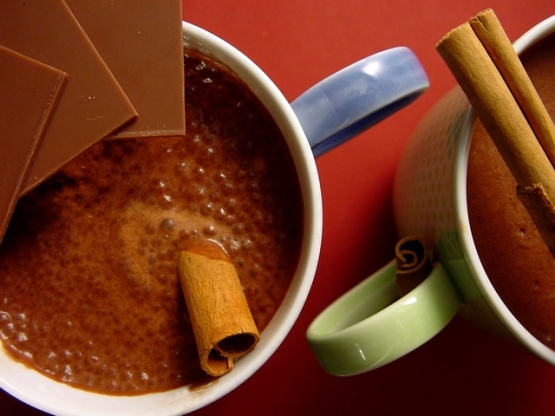 This sounds so delicious! The Barefoot Contessa recommends using Valrhona (French) or Callebaut (Belgain) brands of high quality chocolate for this so splurge!

This is a very tasty, decadent hot choclate drink. It had such a rich chocolate flavor, and was very smooth and creamy. The cinnamon stick or vanilla bean is very handy to use to stir the drink throughout, keeping all the flavors from separating. Made for the "Secret Ingredient" tag game.
Heat milk and half and half in a saucepan on medium heat to just below the simmering point.
Remove the pan from the heat and add both types of chocolate.
When they are melted, add the sugar, vanilla extract and espresso and whisk vigorously.
Reheat gently and serve immedietly garnished with vanilla beans or cinnamon sticks.