Barefoot Contessa's Herb Dip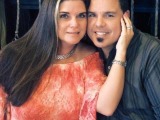 This dip is simple, fresh and delicious. Ina's recipe doesn't call for any garlic, but if you like garlic I would suggest adding a minced clove.
Directions
Place the cream cheese, sour cream, mayonnaise, scallions, parsley, dill, salt, and pepper in the bowl of an electric mixer fitted with the paddle attachment and blend.
Serve at room temperature.
Most Helpful
Excellent dip. It disappeared in a flash! :)