Barefoot Contessa's Fresh Peach Bellinis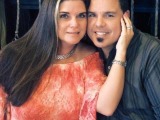 I saw Ina make this on her television show entitled, "Welcome Back Breakfast".
2 ripe peaches, seeded and diced
1 tablespoon fresh lemon juice
1 teaspoon sugar
1 (750 ml) bottle sparkling wine, chilled
Directions
Place the peaches, lemon juice, and sugar in the bowl of a food processor fitted with a steel blade and process until smooth.
Press the mixture through a sieve and discard the peach solids in the sieve.
Place 2 tablespoons of the peach puree into each Champagne glass and fill with cold prosecco (sparkling wine).
Serve immediately.
Most Helpful
This was just kinda blah for me. I think i like my bellinis to have more stuff in them like peach liquer etc.

Well...it doesn't get any easier or more delicious. A wonderful brunch drink! I used Korbel cuz that's what was in the fridge. DD added some to her milk to make a milkshake, lol. Great recipe - thanks for sharing! Made for the August bevvy tag.