Barefoot Contessa's Fresh Pea Soup
Ms B.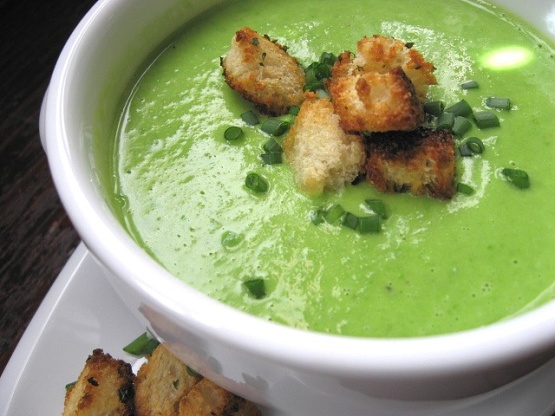 Earlier, I had posted Barefoot Contessa's Roasted Pepper and Goat Cheese Sandwiches after watching an episode of Ina Garten's show on the FoodNetwork. Now, I have finally tried the Fresh Pea Soup from that airing and found that I love it, as well. I prepared this with frozen peas, and while the original recipe did call for mint, I didn't have any on hand and omitted it. Pea soup may make some people's heads spin, but this is so good. Pairing with the flavorful Roasted Red Pepper Sandwich would be an incredible meal.

This is really nice, healthy and fresh- plus quick and easy to throw together. For a half recipe, I just used 1 yellow onion and 2 green onions/chives (no leeks), sauteeing them together. I also used frozen peas and no creme fraiche (which in similar recipes is sometimes substituted with milk). My 10 month old baby loved it! Halving the recipe only gave 2 big servings, so the full recipe might only feed 4 people who really like soup. Thanks for the delicious healthy recipe! ....Side note- I used the basic chicken stock that I always have in my freezer: fry mastic and cardamom pods in little veg oil until mastic dissolves & card is fragrant, add water to boil, put in a whole chicken and onions + garlic + salt + pepper, pressure cook till chicken is falling off the bone. (Then lightly butter & season the chicken pieces and brown them under the broiler to have them for an easy dinner)
Heat the butter in a large saucepan, add the leeks and onion, and cook over medium-low heat for 5 to 10 minutes, until the onion is tender.
Add the chicken stock, increase the heat to high, and bring to a boil.
Add the peas and cook for 3 to 5 minutes, until the peas are tender. (Frozen peas will take only 3 minutes.)
Off the heat, add the salt, and pepper.
*Puree the soup in batches: place 1 cup of soup in a blender, place the lid on top, and puree on low speed.
With the blender still running, open the venthole in the lid and slowly add more soup until the blender is three-quarters full.
Pour the soup into a large bowl and repeat until all the soup is pureed.
Whisk in the creme fraiche and chives and taste for seasoning.
Serve hot with garlic croutons.