Barefoot Contessa's Fresh Lemonade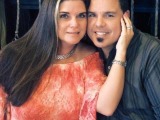 From The Barefoot Contessa Cookbook, 1999. Add a few slices of lemon to each pitcher, or toss in a few squeezed lemon halves.
Directions
Place all the ingredients in a blender and process until completely smooth.
Serve over ice.
Most Helpful
It's a bit warm here this afternoon and this was the perfect pick-me up! Instead of superfine sugar, I dissolved the sugar in a cup of hot water, then put it in the blender with three additional cups of water. Thanks this is a keeper!

Very Refreshing! I made half a recipe which worked well in my blender. Since I did not have superfine sugar, I used regular granulated sugar and blended it in the blender a little before I added the liquid ingredients. Thanks Juenessa!

This was awesome, just the right mix of sweet and sour!!!!