Barefoot Contessa's Chocolate White Chocolate Chunk Cookies
Prep 20 mins
Cook 15 mins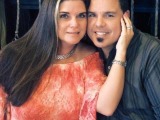 These are like a reverse chocolate chip cookie!
Directions
Preheat the oven to 350 degrees F.
Cream the butter and 2 sugars until light and fluffy in the bowl of an electric mixer fitted with the paddle attachment.
Add the vanilla, then the eggs, 1 at a time, and mix well.
Add the cocoa and mix again.
Sift together the flour, baking soda, and salt and add to the chocolate with the mixer on low speed until just combined.
Fold in the chopped white chocolate.
Drop the dough on a baking sheet lined with parchment paper, using a 1 3/4-inch ice cream scoop or a rounded tablespoon.
Dampen your hands and flatten the dough slightly.
Bake for exactly 15 minutes (the cookies will seem underdone).
Remove from the oven and let cool slightly on the pan, then transfer to a wire rack to cool completely.
Most Helpful
Very good recipe and using the good cookies makes all the difference. That being said, using three boxes of good cookies can be pricey. One advantage of iced box cake is that you do not have to use an exact ratio of filling to cookie. I would rather use a better cookie and use less. Although those good cookies are worth it as they are almost as much as the hard to find famous chocolate wafers. Of course you can make your own too and that would be great if you do not mind one extra step, but then it might be easier just to make a baked chocolate cake, still this cake is so great its worth it I would not recommend taking shortcuts, make the real filling it is well worth it and easy to make. If you want to cut corners, do so with the cookies or maybe use an inexpensive cream cheese instead of mascarpone, but there is no substitute for real cream and real vanilla.
Made a nice big, chewy cookie! Almost a fudgy middle. I didn't have XL eggs, so I just used 2 Large. I also added 1 cup mini chocolate chips and 1 cup chopped up Wilton white chocolate wafers that I had left over from making dipped pretzels. Will add walnuts or pecans the next time I make them and play around with the chip flavors; maybe butterscotch or peanut butter. I think it's the brown sugar in these that I love!
wow... they're so simple but they are amazing!! I used andes mint-chocolate chips instead of white chocolate, but I'll make these again!