Barefoot Contessa's Brownie Tart
Prep 15 mins
Cook 40 mins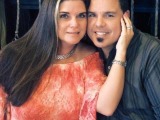 From Barefoot in Paris, 2004. This dessert is very elegant and rich. If you don't have a tart pan, use a springform pan or even a pie plate--which is what Ina used when she made it on her cooking show.
Directions
Grease and flour a 9-inch tart pan with removable sides.
Preheat the oven to 350 degrees F.
Melt the butter in a bowl set over simmering water.
Add 2 cups of the chocolate chips, remove from the heat, and stir until the chocolate melts.
Set aside to cool completely.
In the bowl of an electric mixer fitted with the paddle attachment, beat the eggs, sugar, coffee, and vanilla on medium-high speed until light and fluffy, about 3 minutes. Stir in the cooled chocolate.
In a medium bowl, combine the flour, baking powder, salt, 1 cup of the chocolate chips, and the walnuts.
Fold the flour mixture into the batter until just combined.
Pour into the pan and bake for 35 to 40 minutes, until the center is puffed (the top may crack).
The inside will still be very soft.
Cool to room temperature before removing the sides of the tart pan.
Melt the remaining 1/4 cup of chocolate chips with the heavy cream and drizzle on the tart.
Most Helpful
This was delicious! Super rich and chocolatey...great for chocolate lovers such as myself! :-)
This is the best Brownie Tart I have ever tasted, I made this for the family and now it has become a regular in our house.
This is an excellent recipe as all of the Contessa's recipes are! this *is* rich so a small piece goes a long way, I use instant espresso granules for this in place of instant coffee which seemed to work just fine, also I will increase the sugar amount slightly the next time I make this, thanks for sharing Jeunessa, we really enjoyed this great treat!...Kitten:)