Barefoot Contessa's Blueberry Crumb Cake
Prep 25 mins
Cook 50 mins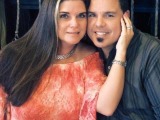 From Barefoot Contessa at Home, 2006.
Directions
Preheat the oven to 350 degrees.
Butter and flour a 10-inch round baking pan.
For the streusel, combine the granulated sugar, brown sugar, cinnamon, and nutmeg in a bowl.
Stir in the melted butter and then the flour.
Mix well and set aside.
For the cake, cream the butter and sugar in the bowl of an electric mixer fitted with the paddle attachment on high speed for 4 to 5 minutes, until light.
Reduce the speed to low and add the eggs one at a time, then add the vanilla, lemon zest, and sour cream.
In a separate bowl, sift together the flour, baking powder, baking soda, and salt. With the mixer on low speed, add the flour mixture to the batter until just combined. Fold in the blueberries and stir with a spatula to be sure the batter is completely mixed.
Spoon the batter into the prepared pan and spread it out with a knife.
With your fingers, crumble the topping evenly over the batter.
Bake for 40 to 50 minutes, until a cake tester comes out clean.
Cool completely and serve sprinkled with confectioners' sugar.
Reviews
Most Helpful
It was so yummy! I made it in a cake pan lined with parchment paper. The cake came out beautifully.
I baked mine in a 9" square springform pan and used 2 grade A large eggs instead of grade A extra large eggs. The cake part is not real sweet but because there is enough struesel to completely cover the top of the cake, the end result is a cake that had, IMO, the perfect amount of sweetness.

I love the Barefoot Contessa's Recipes and this beautiful crumb cake is no exception. It was the bomb. It rose beautifully, has a great texture the blueberries were fresh and bold, tart and sweet, simply perfect. The crumb was the pefect icing on the cake. I took it to a bbq and everyone raved about it. Thanks so much for sharing your wonderful recipe. Made for Name that Ingredient.