Barefoot Contessa's Banana Sour Cream Pancakes
Prep 15 mins
Cook 16 mins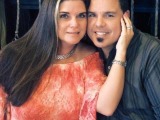 From Barefoot Contessa Family Style Cookbook, 2002.
Directions
In a medium bowl, sift together the flour, sugar, baking powder, and salt.
Whisk together the sour cream, milk, eggs, vanilla, and lemon zest.
Add the wet ingredients to the dry ones, mixing only until combined.
Melt 1 tablespoon of butter in a large skillet over medium-low heat until it bubbles.
Ladle the pancake batter (Ina uses a 1/4-cup measure to drop the batter into the pan) into the pan.
Distribute a rounded tablespoon of bananas on each pancake.
Cook 2 to 3 minutes, until bubbles appear on top and the underside is nicely browned.
Flip the pancakes and then cook for another minute, until browned.
Wipe out the pan with a paper towel, add more butter to the pan, and continue cooking pancakes until the batter is used.
Serve with sliced bananas, butter, and maple syrup.
**The pancakes will stay warm in a preheated 200-degree oven for 15 to 20 minutes.
Reviews
Most Helpful
My daughter had a friend sleep over the other night and the kiddies helped make these for breakfast. The kids loved them with cream cheese and jam.

Delicious thick pancakes just the way I like them, I did change the recipe a little cause when i followed the recipe The pancake batter was very bland and wasnt enough Banana flavour. I just added 2 mashed banana's the the mix, still putting the banana's on top aswel, Add another tsp of vanilla essanceand about a good tablespoon of Maple Syrup and they turned out perfect! TY juenessa
My kids loved these. These are so good. I chose to mash the bananas and add with the wet ingredients, instead of putting them in sliced. I also used orange zest since I didn't have lemon. So very good! Update: I made this today using plain yogurt instead of sour cream. I also blended all the wet ingredients with my hand blender. The batter was so smooth and the pancakes were even better!