Kharah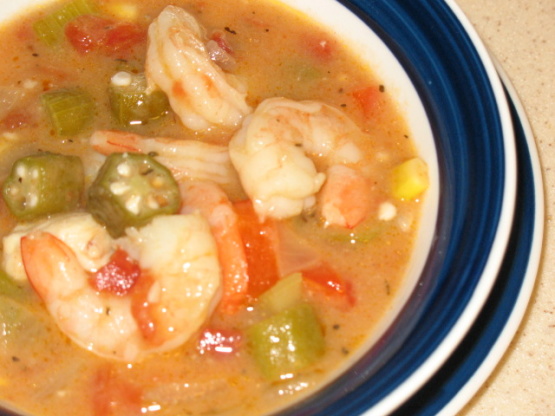 This is my recipe for gumbo. I have made it with shrimp or chicken. We like it either way. You can make it as spicy as you like . We do not care for it to spicy or hot.

WOW....this is a wonderful recipe. I made this last night for my family and we loved it. DH went to the farmers market and brought home some okra and green peppers....hmmmmmm, sounds like gumbo to me...lol. I made your recipe and it had my house smelling so good. I did add chicken breast and andouille (sp?) sausage along with the shrimp. We loved it. The only thing I would do differently is use chicken thighs instead of the breasts....I just think it would hold up better, other then that the recipe is the best! Thank you so much for sharing this with us.....we LOVED it.
Add oil to skillet, heat over medium heat add the flour, to make a roux.
(It is ready when it's color matches that of a penney).
This may take about 15 minutes.
Stir in onion, celery, bell pepper, garlic, and black pepper.
Cook over medium heat about 3 minutes or till vegetables are crisp tender.
Gradually stir in chicken broth, tomatoes, salt, Worcestershire sauce, pepper sauce, corn, okra, Basil, thyme, cumin and bay leaf.
Bring to boiling point; reduce heat.
Cover and simmer for 20 to 30 minutes.
Add SHRIMP during the last 5 minutes.
Serve over Rice.
This can also be made with chicken, if using chicken.
Use chicken breast cut in chunks Add during the last 20 to 30 minute cooking time.
Smoked sausage is also good added with the chicken.
I have added a can of crabmeat to the shrimp version.