K9 Owned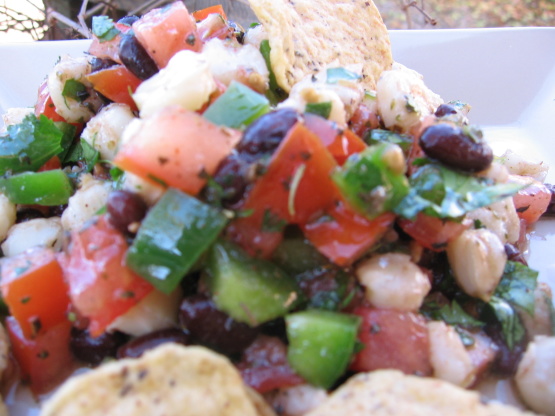 This recipe came from my friend Barb, and it's a little different than any other salsa I've had. It's best made with fresh, vine ripe tomatoes. You can vary the quantities of just about everything, but I usually make it by the recipe, except I add lots more cilantro (I LOVE cilantro). I usually add more jalapeno, too, but we like things spicy. The italian dressing gives it a nice zing, and you can use any variety. I like the zesty. This will keep for several days in the fridge, and it just keeps getting better! Prep time is mostly chilling time.

A very nice fresh Salsa. Living in Canada it was somewhat difficult getting hominy but I eventually found some. It was a new taste for me and frankly, out of the can I would not thank you for it. In this recipe it worked just fine but I think chickpeas would be just as good and for those of us in more northern areas far easier to find. I did reduce the jalapenos as I am a bit of a heat wimp and used homemade Zesty Italian dressing. I made it early in the morning to have at lunch and I think it will just keep getting better as the day wears on. Thanks so much for posting this easy and versatile recipe!
Mix all ingredients and chill at least four hours before serving.