Barb's Feta Cheese Scramble
Barb G.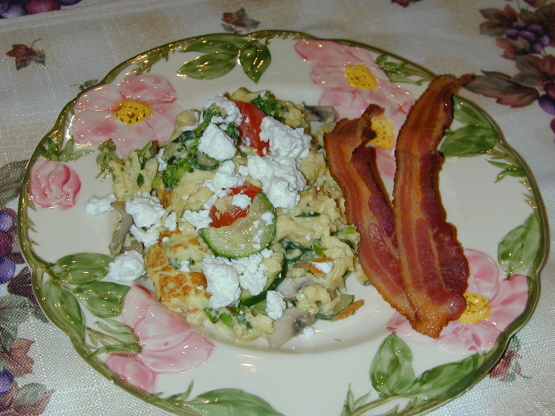 We love feta cheese, this is my own recipe for scrambled eggs with veggies and feta cheese. My DH loves this , and said, you should post this recipe so others can injoy it. This is very good made with other vegetables, such a broccoli, peppers, mushrooms, etc.

Eggs + Feta... why did I never think of this before! It's wonderful! Very good recipe for a change from regular scrambled eggs. I didn't use the tomatoes and added yellow & orange bell peppers (I already had them in my fridge). The only prob I had was that they wouldnn't scramble as dry as I like, so next time I won't use the full amt of half'n'half. I am definitely saving this recipe!
Mix eggs, half& half, salt and pepper (I use hand blender), set aside.
Heat skillet over medium heat, add olive oil, onions, and squash and saute until tender: add salt and pepper to taste.
Add spinach and wilt, add tomatoes and EGG Mixture and scramble till eggs are set, add both cheeses, Serve.