Barb's Chocolate Walnut Biscotti
-Sylvie-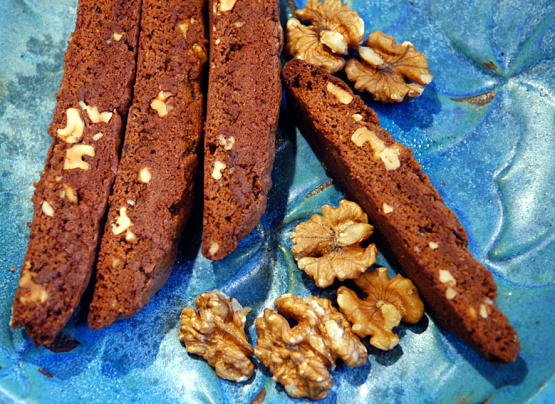 These are great dipped in melted chocolate. These can be made with Splenda for baking.
I don't know if I did something wrong while making these biscotti. They didn't rise much and instead just flattened out across the baking sheet. When they were done, it seemed as though there was too much sugar in the recipe because the biscotti were incredibly crunchy (like melted and then hardened sugar) and not at all like the more cookie-like biscotti I was expecting. Willing to give them another try while tweaking the recipe a bit.
1

cup flour
1⁄4 cup unsweetened dutch cocoa
3⁄4 teaspoon baking powder
1⁄2 teaspoon salt
1⁄4 cup unsalted butter, softened
1 1⁄2 cups sugar, plus

2

tablespoons sugar (I use Splenda sugar blend for Baking, use half the amount of sugar)

1

large egg

1

tablespoon freshly grated orange zest

1

tablespoon fresh orange juice
1⁄2 cup chopped walnuts, toasted
Toast walnuts in oven or microwave; set aside.
Preheat oven to 350 degrees and butter a large cookie sheet.
In a bowl whisk together flour, cocoa powder, baking powder, and salt.
In another bowl with an electric mixer beat together butter and sugar until light and fluffy; add egg, zest and orange juice and beat until well combined; stir in flour mixture until a soft dough is formed, stir in walnuts.
On a baking sheet with floured hands form dough into 2 (9-inch) long logs and bake in middle of oven until slightly firm to the touch, about 13 minutes. Cool biscotti on baking sheet on a rack for 15 minutes.
On a cutting board with serrated knife cut logs diagonally into 1/2-inch- thick slices; arrange biscotti, cut side down, on baking sheet and bake until crisp, about 15 minutes.
Cool biscotti on rack: biscotti may be made 1 week ahead and kept in airtight containers, or 1 month and frozen.