Barbs Butter Bean or Lima Bean Soup
RedJim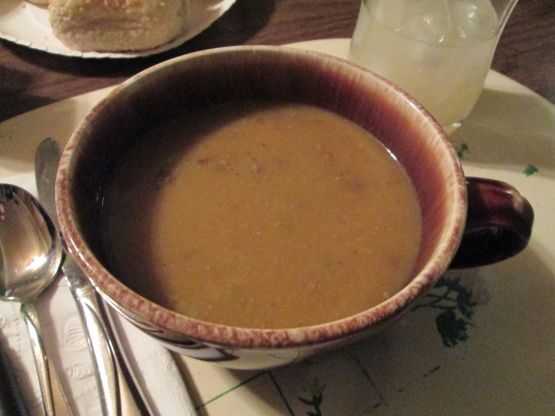 My family loves this tasty soup. It can also be made using great northern beans. Note:I have used diced tomatoes with Jalapeno's added for a spicy flavor. Also pass the hot sauce.

Top Review by RedJim
Great recipe, Barb. Thanks for posting it.

And thanks for the tip about letting the beans rest in the cooking water for an hour. Worked like a charm for me.

One small modification I made: I pureed the soup after about 1 hr and 30 min, returned it to the stove top and added the chopped celery for a final 30 min cook. The soup turned out silky smooth, with a nice celery crunch when tasted.
1

lb lima beans (dried)

6

cups water, add more if needed

3 -4

teaspoons chicken base (McCormicks)
3⁄4 cup carrot, sliced

1

stalk celery, diced

1

medium onion, chopped

1

(14 ounce) can tomatoes, diced
salt and pepper

2

tablespoons flour
Put beans into large soup pot cover with water bring to a boil for 2 minutes, turn off heat and let set for 1 hour, Drain off water.
Add the 6 cups water to the beans and bring to a boil & simmer; at this point if I an using ham or ham hocks I put them in a smaller saucepan and cook them until done.
When beans are starting to get tender add ham (& broth from ham) or Kielbasa, tomatoes, onion , carrots, celery and simmer until done.
Season with salt and pepper to taste: also for a thicker soup add the 2 tablespoons flour to a little water, add to soup and simmer, check seasonings.