Barb's Best Zucchini Bread
Coco Hii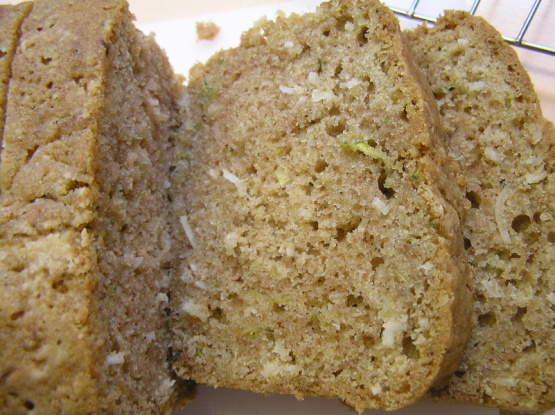 This is an awesome recipe from my sister. I don't know where she got it, but it is absolutely scrumptious and a must-have for all of you gardeners out there :)

I had made a loaf of this bread & one of the Zucchinni chocolate bread the other night. My husband (who does not like zucchini & gave me an "oh man" when he found out it was in both loafs). Just called me at work to tell me that he had just tried both breads & he liked them both but this one was the best out of the two! Two thumbs up from a non-zucchini eater!
Preheat oven to 325* and grease bottom only of two 9 x 5 bread pans.
Beat eggs until foamy.
Stir in sugar, zucchini, oil and vanilla.
Combine dry ingredients and spices and gradually add to wet ingredients.
Fold in nuts and raisins.
Pour into prepared pans.
Bake for 60 to 80 minutes or until center tests done.
Cool for 10 minutes on rack and then remove from pans.
Cool completely on rack before slicing.