cbw8915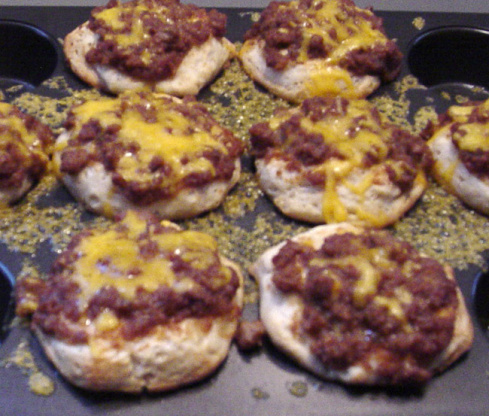 This is my version of a Pillsbury recipe. I just think they are better if you add the cheese after partially baked and not at the beginning. When I made it the cheese was over-baked and hard. I also tried them with Bulls-eye BBQ sauce and the Open Pit was liked much more. I made them for my neice and nephews for one of their birthdays and this recipe has been a staple in their house also. Good for kids, but I like them too.

Made these for years & they are wonderful. Kids can't stop eating them!
Heat oven to 400 degrees.
Grease muffin cup pan.
As many as you have biscuits, usually 10.
In skillet, brown ground beef, with onions.
Drain off fat.
Add barbecue sauce and brown sugar.
Simmer 10 minutes.
Place 1 biscuit in each muffin cup pressing down in bottom and up the sides.
Spoon about 1/4 cup into each biscuit cup.
Bake for 8 to 10 minutes, until almost done.
Sprinkle each with cheese and return to oven for 2 to 3 minutes more, until cheese is melted.
Cool 1 minute and remove from pan to serve.