Barbecued Worm Sandwiches (Halloween or Anytime!)
gailanng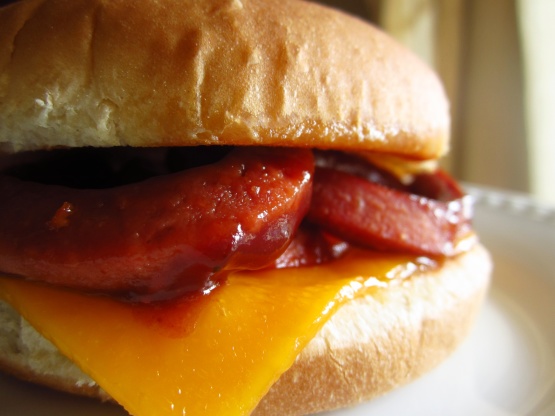 Halloween or anytime, these are YUMMY and really fun! I got this recipe out of one of those books you buy at the grocery store. It is from Pillsbury. These are easy to make and everyone loves eating Barbecued Worms!

These are great! Made them for a Halloween party and the kids loved them. Then I made them for an afterschool dinner program we do with our church in a nearby city for disadvantaged kids and they loved them! They were so cute about them being "worms". Definitely a fun and delicious recipe! I did prepare this ahead in the morning and put it in my crockpot all day so they were ready and all curled up for dinner. I didn't need to do the skillet step.
Cut each hot dog in half lengthwise, then cut each half in thirds to make 6 strips.
In 10-inch nonstick skillet, heat hot dog strips over medium-high heat until strips begin to curl. (Strips will curl slightly when heated.).
Gently stir in barbecue sauce until hot dog strips are coated. Heat until bubbly.
Place slices of cheese on bottom halves of buns. Top with hot dog mixture, and cover with top halves of buns.