Barbecued Shrimp With Mango Lime Mayonnaise
Jubes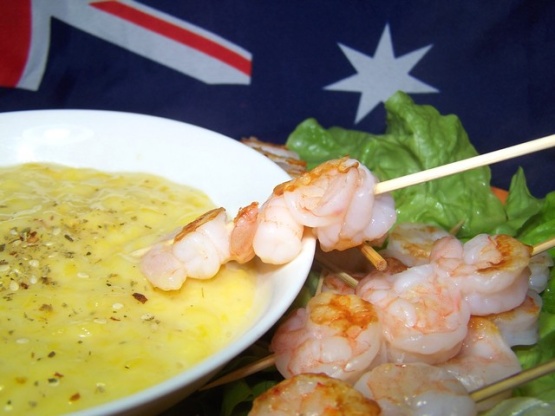 Apparently, Australians don't actually do much 'shrimp on the barbie' but thanks to Paul Hogan the world thinks otherwise. Traditional or not BBQ shrimp is actually really nice and this is an extra nice way of serving it.

This mayo was incredible. I didn't bbq the shrimp but instead poached it. My poached shrimp recipe is #378208. I served it at a party and everyone loved it. I did double the lime juice though.
Skewer the shrimp and brush them with canola oil.
Heat the barbecue.
Mix together the mayonnaise, grated mango, lime juice and salt.
Stir mixture well to combine. Set aside.
Barbecue the shrimp until cooked -- about 1 minute on each side or slightly longer for larger shrimp.
Serve shrimp immediately with a side of lime mango mayonnaise for dipping.