Peter J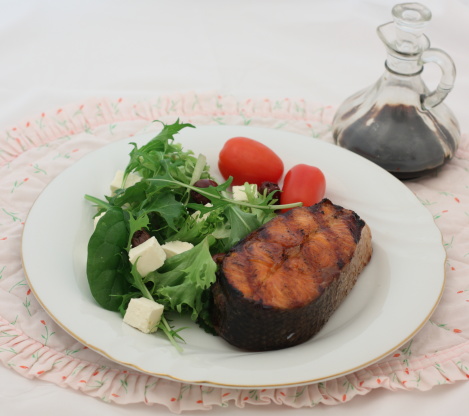 I got this recipe from Duncane Gas Grills. I am anxious to try it. It sounds so good! Serving amount is your choice, depending on how many steaks you buy. Cook time is appoximate.

Wow great flavors! I cooked it nice and gently for around 15 minutes over a low temperature and then cranked up towards the end for some nice grill marks. Apart from matching the salmon very well the sauce also made a great salad dressing, it went especially well with some feta cheese cubes.
Baste steaks every 3 minutes or so with a mixture of the last 5 ingredients, as they are grilling.
When finished cooking salmon will flake easily with fork.
Sprinkle with lemon juice, pepper and garlic powder.
Place on serving platter and spoon more barbecue sauce over salmon.