lazyme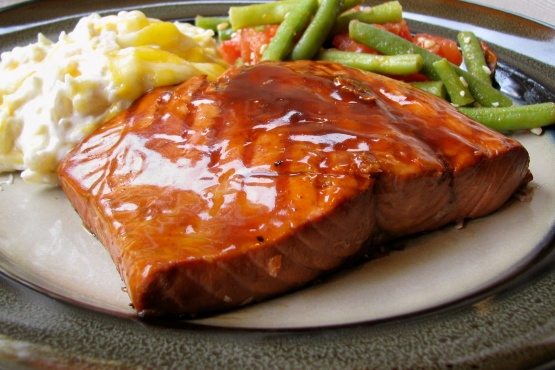 This is an excellent salmon recipe. We found this years ago and keep coming back to it. Enjoy!

Really good. I love how quick and easy it was and how well it cooked on the BBQ. Next time I may add a splash of orange juice to the marinade. Thanks for posting!
Rinse the Salmon and pat dry with paper towels.
Combine the Lemon Juice and Soy sauce in a shallow glass dish.
Add Salmon and let stand at room temperature for 15-20 minutes. Make sure to turn the Salmon several times throughout the 20 minute.
Remove the Salmon from the marinade and season lightly with Salt and Pepper. Discard the marinade.
Grill salmon on a covered grill for 10 to 14 minutes.
Halfway through cooking time brush Salmon with Barbecue Sauce, turn and continue grilling.
Once the fish flakes easily when tested, remove from grill and brush with Barbecue Sauce and serve.