Laudee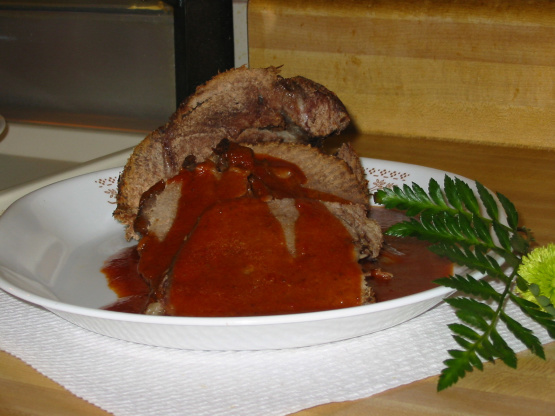 The aroma of this meat baking is awesome...at a social gathering. I knew I wanted this recipe from my girlfriend even before I tasted it! This is a dish you can prepare then forget about for a few hours! Serve it with any salad of your choice, crusty rolls, whatever cool drink you prefer and you've got it made! The leftovers are great too...if there are any! If you can't find ketjap manis see Ketjap Manis.

Top Review by Laudee
Oh My Lord! This roast is awesome! I followed the directions to the letter, and it came out fork-tender, and all dolled up with the tangy, zingie bar-b-q sauce that really made the recipe! Made this for our Silent Cricket cook-a-thon, and am I ever glad I did! An absolute 5* winner! Laudee
Put meat in roaster pan with 1 1/2-2 inches of water.
Sprinkle meat with dry seasonings, salt and pepper and rub over meat.
Pour sauces over meat.
Cover and bake in oven at 325°F for 5 hours.
(You may be able to use a crockpot too!)
While meat is baking, you can make the sauce.
Combine all sauce ingredients in saucepan.
Bring to boil.
Lower heat.
Cook and stir for 10 minutes; set aside.
Take meat out of oven and let set for about 10 minutes.
Slice meat as thinly as you can.
Cover with barbecue sauce and keep warm till ready to serve.