Sue Lau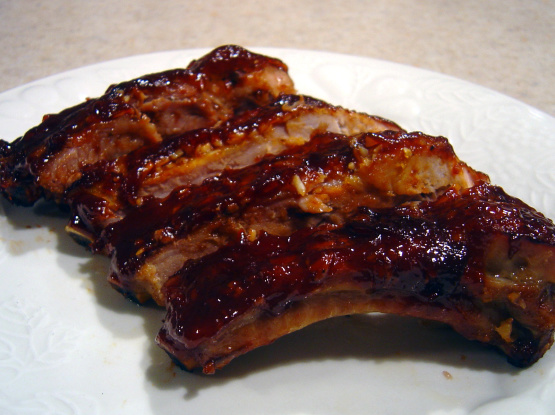 I took part of this recipe from Sunset Favorite Recipes II and part from my own taste. My family loves these ribs.
4

lbs pork baby back ribs, cut into pieces
1⁄2 cup garlic, minced

1

cup water, divided

2

cups barbecue sauce (your favorite kind, I use K.C. Masterpiece Original, approximate amount)
Put 2 pounds of ribs in each of two 9x13 pans.
Sprinkle with seasoned salt.
Spread garlic over all the ribs.
Put 1/2 cup water in bottom of pan.
Cover with aluminum foil.
Bake at 350 degrees Fahrenheit for 1 hour.
Pour off all liquid.
At this point I try to put all ribs in one pan, but I do not let them cover each other, so use your own judgement.
Spread barbecue sauce liberally on meaty side of ribs. Put Ribs meaty side up in pan.
Bake uncovered for 1 hour at 350 degrees Fahrenheit.