Pam-I-Am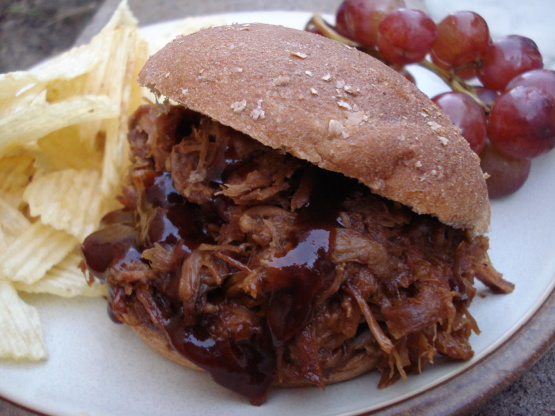 This is a amazing dish. It's easy & a real crowd pleaser. I bring it in my crockpot to all kinds of picnics and get rave reviews. I never really liked pork until I made this for my hubby who loves pork. Now I can't get enough. I use my own barbque recipie, it's posted, try it.

Top Review by etully
I made this exactly as written; my first attempt at pulled pork. The entire family liked it very much and I will be making it again.
Combine all spices in a bowl and rub onto roast. I sometimes let my roast marinade in the rub over night.
Place pepper & onion into slow cooker, add roast. I don't use the green pepper.
Combine sauce & brown sugar and pour over meat. Cover and cook on LOW 8-10 hours. Or until you can shred the meat easily with two forks. I normally cook mine 15-20 hrs in crockpot but it should be done much sooner than that.
Serve on Buns or over rice.