Barbecued Prawns (Shrimp) With Mustard Dipping Sauce
vrvrvr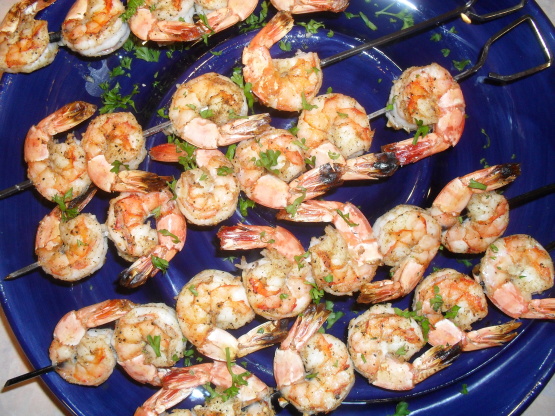 Super easy and makes a great entree/appetizer for an outdoors meal. Can be cooked also in a large pan or grilled. You can add some yogurt or sour cream to the dipping sauce if you wish- if you do cut back on the lemon juice

Top Review by vrvrvr
We were crazy about the shrimp, but not so much the dipping sauce. For the shrimp, I added some minced fresh garlic and drizzled a little melted butter over the skewers before broiling. The shrimp tasted like heaven, and the spice combination was interesting and great. The dipping sauce was so very sharp, and I had cut it with 2 T. mayonnaise. Most folks at dinner skipped the sauce and savored the shrimp. Yum!
To make the sauce- stir together the sauce ingredients in a small bow. Set aside.
For the prawns- Mix together the coriander, cumin, pepper and salt in a large bowl. Add the prawns, toss to coat.
Preheat the barbecue. Thread the prawns onto skewers and cook on both sides until done- SHould take less than 5 minutes to cook.
Serve warm or chilled with the mustard dipping sauce.