Barbecued Pork Tenderloins
Boomette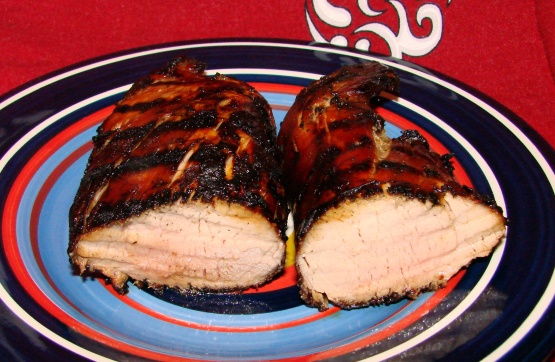 Tex-Mex Magic Weekend from Good Food Magazine, August 1986. Prep time does not include marinating time.
Place tenderloins in shallow noncorrosive pan. Add orange juice, soy sauce, honey, garlic, rosemary, and a generous grinding of pepper. Turn tenderloins over several times to mix marinade. Refrigerate coverede, turning meat once or twice, at least 2 hours.
Start charcoal or gas grill for grilling.
When coals are very hot and covered with gray ash, or gas grill is preheated, brush grill rack with oil and place tenderloins on grill. Sprinkle lightly with salt. Grill, turning once, until brown and crusty on outside but still juicy inside, 20-25 minutes. Let stand 10 minutes on serving platter fefore slicing. Slice diagonally 1/2-inch thick. Serve at once.
Note: Pork tenderloins can also be grilled under broiler. Broil 6 inches from heat, turning once, about 20 minutes.