Barbecued Pork Tenderloin
Prep 30 mins
Cook 35 mins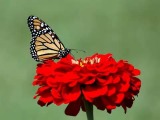 The combination of marinade, dry rub and barbecue sauce provides the pork tenderloins with a flavor that's reminiscent of slow-smoked Kansas City ribs. Prep time does not include marinating time. From Cooking Light, May, 2003.
Directions
Combine first 4 ingredients in a large zip-top plastic bag; add pork. Seal and marinate in refrigerator 2 to 12 hours; turning bag occasionally. Remove pork from bag; discard marinade.
Prepare grill; heating one side to medium and one side to high heat.
Combine ground coffee and next 4 ingredients (ground coffee through salt); rub over pork. Let stand at room temperature for 15 minutes.
Combine 1/4 cup barbecue sauce and 1 tablespoons apple cider vinegar. Reserve 2 tablespoons of the barbecue sauce mixture, and set aside.
Place pork on grill rack coated with cooking spray over high heat; grill 3 minutes, turning pork on all sides. Place pork over medium heat; grill 15 minutes, turning pork occasionally. Baste with 3 tablespoons barbecue sauce mixture; grill 5 minutes or until thermometer registers 160 degrees F (slightly pink), turning pork occasionally.
Place pork on a platter, brush with reserved 2 tablespoons barbecue sauce mixture. Cover with foil; let stand 5 minutes.
Reviews
Most Helpful
This was really good! I didn't have molasses so added brown sugar to the marinade. The only change I will make next time is use the rub as a seasoning/sprinkle rather than completely covering the tenderloin. Made for Everyday Holiday.
Thanks for sharing another winner Nancy!! This made for a great family dinner that everyone enjoyed. I will be making again for sure. Thanks
Wow, was this ever good Nancy. Made exactly as written wouldn't change a thing. Well worth the extra effort. Perfect to serve to family or friends. I marinaded the pork for 8 hours, resulting in very flavorful and tender pork. We really enjoyed all the flavors that were used in the rub, marinade and sauce. The pork tenderloin had nice layers of flavor. Thanks for sharing another winner which I will make again.