Barbecued Pork Quesadillas
teresas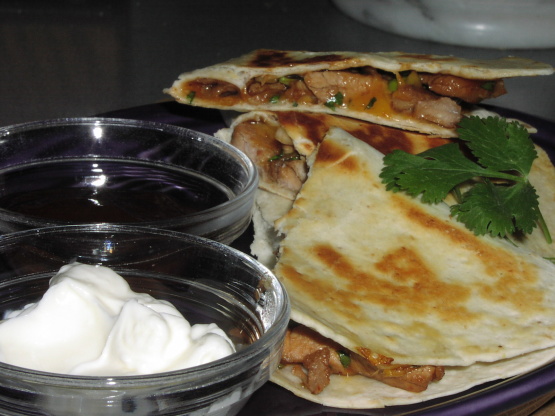 We really love this quesadilla. It is different than others we have had.

had picked up a 2pound package of pulled pork from Costco. We had made barbecue rolls over the weekend, and looked for something else. I sauteed some chopped green pepper and onion wedges, and added them to the pork, which we mixed with SE Carolina (vinegar) sauce. DH and I each ate ALMOST an entire 8" quesadilla --and couldn't finish the last slice. Very tasty ! tanks for posting, seesko.
Stir together first 4 ingredients.
Spoon pork mixture evenly on 1 side of each tortilla; sprinkle with cheese. Fold tortillas in half, pressing gently to seal. Spread butter on both sides of quesadillas.
Heat a large nonstick or cast-iron skillet over medium heat, and cook quesadillas 2 to 3 minutes on each side or until browned. Cut each quesadilla in half for main-dish servings or in quarters for appetizer servings. Serve with desired toppings. Garnish, if desired.
Note: You can buy pork already barbecued if you want to make this easier.