Barbecued Pork--Chinese Style
Pamela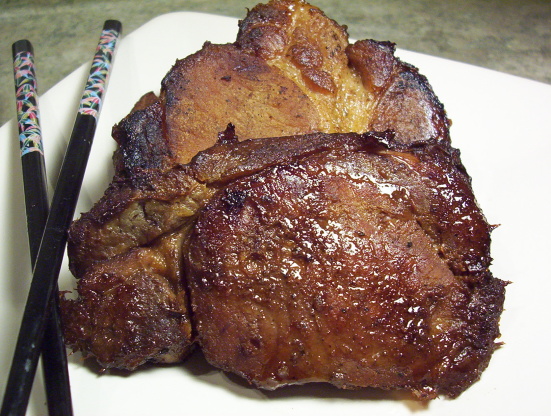 This recipe comes from Dorothy Huang, who is a local chef and cookbook author. I think it makes a wonderful barbecued pork that tastes like the best Chinese restaurant's! You can slice the pork into 2 inch by 1/8 inch pieces and serve hot, or cold as part of a Chinese cold plate. Prep time does not include marinating time.

Dorothy/Leslie you are GEMS. My family and I LOVE this recipe. The next day briefly stirfry the remaining pork with cabbage and thinly sliced carrots in a wok with a few tablespoons of peanut oil and couple MORE tablespoons of Hoisin sauce. It's served here at a GREAT Chinese place and called BBQ Pork Cabbage......simply AWESOME!!
Trim fat off pork and cut meat into pieces about the size of pork chops, 3/4 inch thick. (If using pork tenderloin, cut in half lengthwise).
Combine the marinade ingredients in a large mixing bowl and mix thoroughly.
Dip each piece of pork into the marinade to coat well.
Cover and refrigerate for 4 hours or overnight.
Place pork pieces on a barbecue grill over medium heat and barbecue for about 30 minutes or until fully cooked, turning once or twice while cooking.
During the last 10 minutes, baste with the marinade.
Tip: Barbecued pork has the best flavor when cooked over charcoal, but it can also be cooked in the oven.
Line a roasting pan with foil and add some water to prevent smoking.
Put the pan on the lower rack.
Place the pork on the upper rack, 3 inches from the heat source.
Broil pork pieces 2 minutes on each side.
Brush with marinade; reduce heat to 350°F and roast for 30 minutes.
Divide leftover pork into 4-ounce packages and freeze.