NELady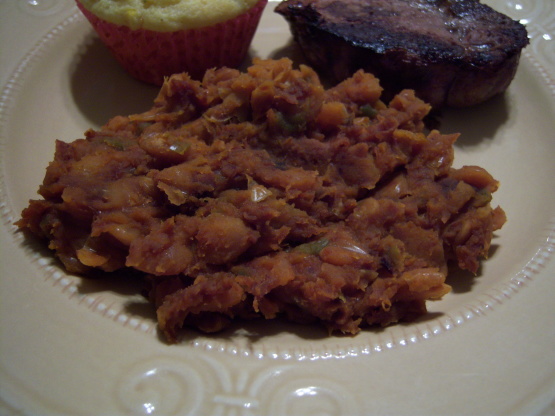 Great baked beans for a cookout! Reduce the brown sugar if you want your beans less sweet. This is from the Chicago Tribune Food Guide. Prep time includes bean soaking time.

Top Review by NELady
Very delicious way to fix dried baby lima beans (which I had tons of in my pantry... must have been on sale...). I used some left-over deli ham instead of bacon or salt pork, subbed BBQ sauce for the ketchup. Other than that, I followed the recipe as written (but I did cut down on the brown sugar -- I used 1/2 cup of Splenda Brown Sugar Blend -- and it was plenty sweet for me). My husband LOVED these beans -- said they were much better than canned baked beans. I'm delighted I found a recipe to use up the rest of the dried baby limas in the pantry!
Wash beans; sort.
Soak beans in water to cover in a large bowl 8-12 hours.
Transfer beans and soaking water to a large saucepan.
Heat to boil over medium-high heat.
Reduce heat to medium-low; simmer 1 hour.
Drain.
Heat oven to 350°F.
Combine beans, bacon, tomato soup, onion, bell pepper, brown sugar, ketchup, mustard, and Worcestershire saucen a large bowl; mix well.
Transfer mixture to a 13" x 9" baking pan.
Bake until hot and bubbly, about 1 hour.