Barbecued Fish With Crisp Potatoes
PaulaG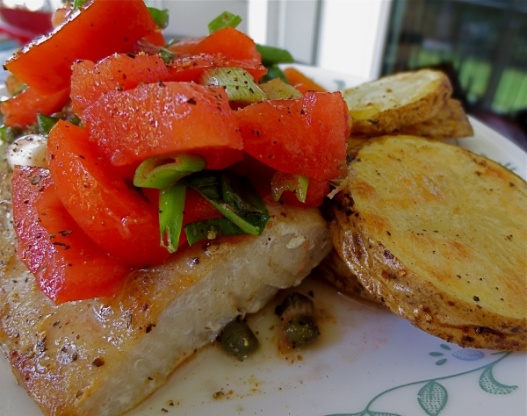 From the Healthy Food Guide site.
Top Review by PaulaG
This is a wonderful way to prepare fish. The recipe was reduced to 2 servings. Mahi Mahi was used and the fillets may have been a little thicker as it took more than 5 to 6 minutes to cook through. A large russet potato was scrubbed and sliced then coated with olive oil and sprinkled with salt and pepper. The potatoes were not precooked prior to going on the grill and they turned out crispy on the outside and tender inside. Also, I used a large tomato and had plenty of the topping for the 2 fillets. Made for Aussie Swap.
Boil potatoes for 12-15 minutes, until tender. Meanwhile, preheat a flat barbecue grill to a medium-high heat. Slice and place cooked potatoes on preheated grill and cook for 5 minutes, until each side is crispy.
While potatoes are cooking, season fish with olive oil, salt and pepper. Push potatoes to one side and cook fish on the grill for 5-6 minutes, until golden and flesh has turned opaque.
Combine tomatoes, spring onions, garlic and capers. Stir through basil leaves and extra virgin olive oil. Spoon mixture on top of fish fillets and serve with crispy potatoes.