Peter J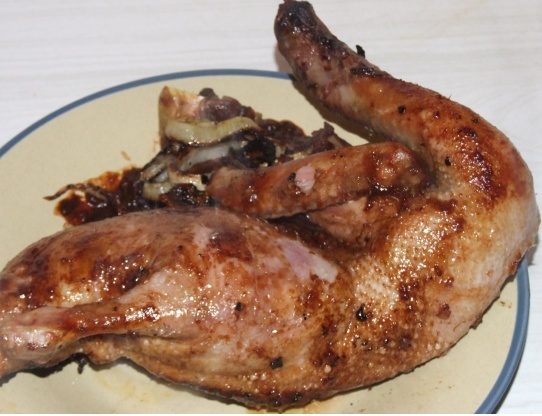 Barbecued Duck - easy and flavorful! The sauce is enough for 2 ducks.

First time I have cooked Duck – and this recipe certainly helped me. I used 3 cloves of garlic and left out the salt and forgot to add the onion – didn't seem to matter as I got a 9/10 from hubby! Can't comment on the duck as I am veggie – but the sauce was finger licking good! I served with potato wedges, baked beans and a side salad. Simple dish although meat takes a while to cook - worth the time once in a while
Split duck in half.
Flatten and place on rack in shallow pan.
Bake in a 375°F oven.
Cook all ingredients for sauce for 5 minutes before using.
Bast with barbecue sauce every 10 minutes while baking.
Cook ducks until cooked through.