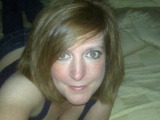 This has got to be the best brisket recipe ever. Try it and see!
Directions
Mix marinade ingredients in a bowl.
Place brisket fat side down in foil lined baking pan. Rub with 1/2 of the marinade.
Flip brisket fat side up and rub with remaining 1/2 of marinade.
Tightly wrap foil around brisket and refrigerate overnight.
Bake at 300°F for 4 hours.
Uncover brisket, top with your favorite barbecue sauce and continue baking uncovered for another hour.
Cool slightly and slice against the grain.
Cook time includes overnight refrigeration.
Most Helpful
One our my neighbors made this for a picnic about 20 years ago and we''ve been hooked on it ever since. To cut down on the salt, I use garlic powder and onion powder rather than garlic/onion salt.