Barbecue Skillet Pork Chops
sbera007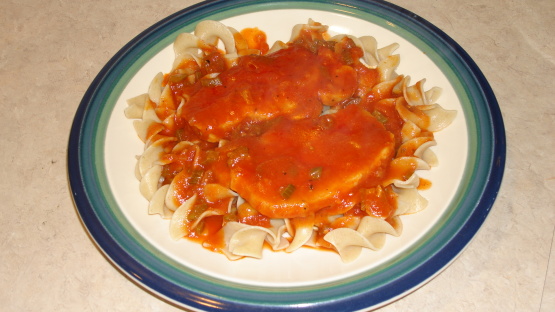 I found this recipe in our local newspaper, and tweaked it just a bit to fit my tastes. It is a fantastic, easy, no-sweat dish to make in the summer because it doesn't require heating the oven up. We ate it over cooked egg noodles, with a side of cooked broccoli, and a salad. The sauce is just divine!! The leftovers are also good cold for a quick lunch. Yummy!!:)

You are so right, Manda - the sauce is DIVINE! I plan to make up a batch by itself and freeze for use in other recipes and on the grill. And the chops turned out very juicy and tender. Instead of noodles or mashed potatoes, I served the chops and sauce with red beans and rice (1 box of Zatarain's - makes up in the microwave in 25 mins). The sauce ran over into the red beans & rice and it was sooooo YUMMY! I've definitely added this one to my cookbook.
In large skillet, brown chops in oil over medium heat.
Drain off excess oil.
Sprinkle celery, onion, brown sugar, lemon juice, and seasonings evenly over chops.
Pour tomato sauce over all.
Cover and simmer over low heat 1 hour, or until chops are tender, occasionally turning chops in pan.
Serve with cooked egg noodles or mashed potatoes.