Barbecue Recipes Grilled Pork Spareribs
diner524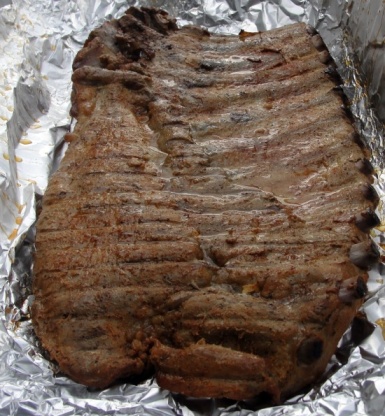 Barbecue Recipes, formerly Patio Recipes revised January, 1985
Cut ribs into serving pieces, allowing about 3/4 lb. per serving.
Brown ribs over hot coals or in heavy skillet on your kitchen range.
Mix together remainder of ingredients. Pour over ribs and allow to stand for 24 hours.
Remove ribs from sauce, retaining sauce for basting.
Either thread ribs, accordian style, on a spit or lay them on the grill. Either way, a drip pan or foil should be placed on coals to prevent flare-ups from the fat drippings.
Baste with barbecue sauce and cook long and slowly, about 1-1/2 hours.
Ribs can also be marinated before cooking and the marinade used as a basting sauce.
After ribs are cook, pour on remaining sauce and serve.
To save time and insure moistness, parboil ribs before grilling, by cooking in boiling water for 5-10 minutes.