Barbecue Pulled Chicken Sandwiches
Pamela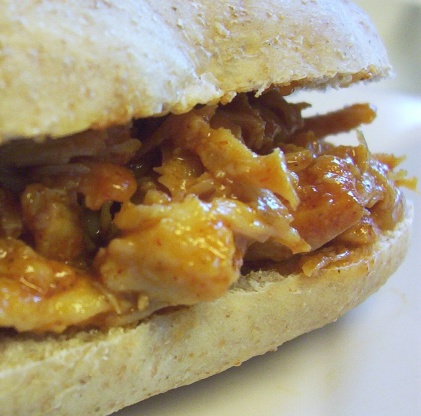 Deeelicious and quick BBQ for everyone! Sweet and spicy....this one really hits the spot!

So my DH invited guests over for bbq w/ a 2 hours notice. We ran out of propane, so I had to think out of the box. I always do my pulled pork or chicken sandwiches in the crockpot, so I was honestly wondering how this would turn out. I made exactly as directed except I cooked a little of 2 lbs of chicken, so I adjusted ingredients accordingly. I didn't have any liquid smoke, so I used up a bit of bottled chipotle bbq sauce I had on hand. I also thinly sliced the onion & let them simmer in with the chicken breasts along with a splash of apple cider vinegar. This was so good & it turned out so well... Nothing was left. The guys stuffed themselves silly & were raving. This sauce is a perfect blend of sweet/spicy. Thank you for a very easy & quick way to make these. This recipe is a keeper!
Heat stock in shallow pan to a low simmer.
Add chicken to stock.
Poach chicken for 5 minutes each side.
Remove chicken to plate to cool. Reserve stock for sauce.
In a large bowl mix together all sauce ingredients, EXCEPT the flour.
Add mixed ingredients to simmering stock, reserved from poaching the chicken.
Let liquid reduce for 5 minutes.
Cut cooled chicken into strips.
Add chicken into the simmering liquid.
Shred chicken until it looks like pulled pork.
Add the tbsp of flour.
Let cook until sauce thickens.
Serve on a lightly toasted onion roll and enjoy!