Ackman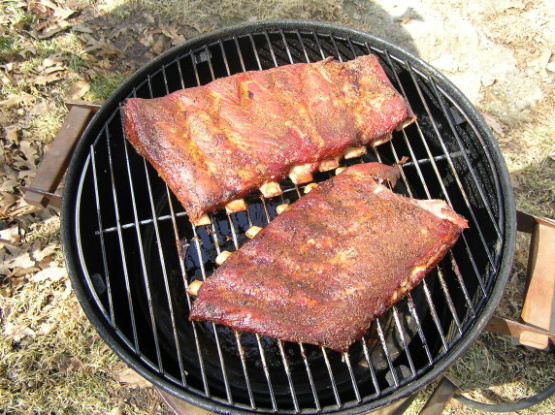 I've noticed that several rib recipes call for boiling the ribs, before grilling, smoking or whatever...this is just WRONG! No matter what seasoning you put in the water, boiling takes away the flavor of the pork, plain & simple! Boiling ribs will NOT make them moist! The rib meat should be PULLED off the bone...NOT fall off! Steaming the Ribs, like this will enhance the flavor & help the seasoning penetrate. You can use either Baby Back or St. Louis style ribs for this.

I used apple juice to make our ribs, and they turned out OK. I don't know as I will make them again as they didn't really live up to our expectations. Thanks for sharing with us though!
2 -4

lbs pork ribs
1 1⁄2 cups apple juice or 1 1⁄2 cups cider

1

large Spanish onion

2

tablespoons rib seasoning, your favorite (use more or less, if preferred)
Preheat your oven to 225°F.
Take a broiler pan w/ a slotted top or a 9X13 cake pan & a wire rack.
*Pour 1 to 1-1/2 cup Apple Juice/Cider on the bottom of the pan, along with a coarsely cut Spanish Onion. (You want the liquid about 1/4 inches deep).
MAKE SURE YOUR HANDS ARE CLEAN!
Season your ribs the way you prefer, using 1 T. per side & rub into meat. Place on rack, meaty side up.
Cover with a double layer of foil.
Bake for 3 hours.
If you have a smoker type grill, reduce oven cooking time by 1 hour & place in preheated smoker/grill for 1 hour. I prefer Applewood, but use what you like.
Remove from oven/smoker & baste with your favorite BBQ Sauce & broil or grill, until glazed. but watch closely so as NOT to burn. I prefer my ribs "naked" with the sauce on the side, but to each his own.
*NOTE: You can also use just water & add 1/4 cup Liquid Smoke, if you have no way of smoking them. You can also use Jack Daniel's No. 7 Black Label, but that's a little pricey. Use your imagination, but for heaven sakes, DO NOT BOIL THEM!