lazyme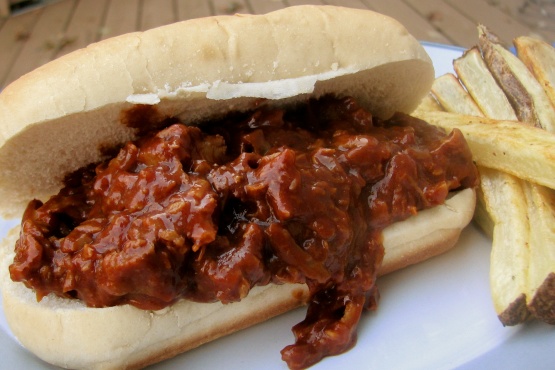 Very tasty sandwich for five minutes of work. Then let your slow-cooker do the rest of the work while you are at work.

Top Review by Pippy
I am new to the slow-cooker world, and I loved this recipe. It all fell apart when I took it out (can't complain about that!). I meant to make sandwiches, but ended up using some sliced as a dinner roast with mashed potatoes and corn on the cob, and some on pita pizzas with cheddar and green onions. I reduced the sauce (a coca-cola/barbeque sauce reduction, how gourmet is that, lol) to about half, serving a little on the roast, and put a little on the pizzas with some regular pizza sauce. It seemed a bit sweet to use alone.
Combine first four ingredients in a slow-cooker.
Cover and cook on high for 5 hours.
Drain and slice or shred pork.
Serve on buns with additional barbecue sauce if you'd like.